FIDO APAC Summit 2023
FIDO APAC Summit 2023
August 28 – August 30
Silver Sponsor : TrustKey Solutions
The Asia-Pacific region is experiencing a significant shift in the landscape of authentication methods, with a growing interest in passwordless solutions. Traditional password-based authentication methods have proven to be vulnerable to various threats, including phishing attacks, credential theft, and weak password practices. As a result, organizations in Asia Pacific are actively exploring and adopting passwordless authentication as a more secure and user-friendly alternative. The Asia Pacific identity and authentication market is expected to grow during the forecast period from 2021 to 2028.
The FIDO APAC Summit 2023 brought together industry leaders, cybersecurity experts, and government representatives from Asian countries such as Japan, Singapore, Australia, and South Korea to explore the latest developments and success stories in FIDO authentication.
In particular, Google seemed to be focusing on spreading Passkey by supporting it on Chrome and Android.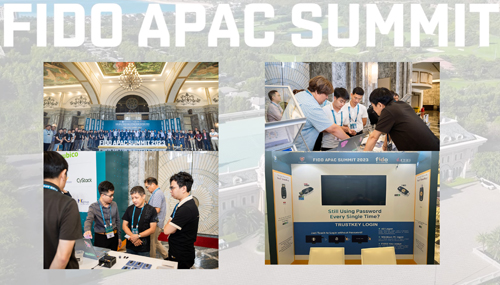 At this summit, TrustKey operated an exhibition booth to introduce the new model B210 and showcase TrustKey Login Solution and PIV. In addition, we met with leading companies such as DTASIA Vietnam, VinCSS, and CySack to discuss potential partnerships, especially with VinCSS.

Through this event, we had the opportunity to introduce TrustKey solutions' FIDO technology and had a rich networking experience.
MORE